THE CROSSING WEEKLY
NO Kingdom Kids offered on the fifth Sundays of the month. On Sunday January 30th children ages 1-5 will join their parents in the sanctuaries and experience worship and baptisms with the congregation. We believe this is a foundational element in their walk with Christ and as vital part of our church body.
Baptisms are happening Sunday January 30th. If you are interested in getting baptized please contact Wes Shattuck at cordof3wes@aol.com
Fire and Ice Winter Festival is coming up! Spend the evening sledding, skating, and enjoying local bands, burgers, and our beautiful ranch in the light of bonfires! All proceeds support Dreamers' Ranch programs and operations. Help us welcome in the community to our church. The cost is $15 per person, 5 years and under are free, register below.
Financial Peace University is a nine-lesson course that teaches you how to save for emergencies, pay off debt fast, spend wisely, and invest for your future. Classes are every Sunday night from 5-7 PM for 9 weeks, starting February 20th. Contact Laura Langlois for more details at Lauralanglois@comcast.net or sign up below. Must order materials by February 13th.
SUNDAY, FEBRUARY 19TH - 20TH
Kids Overnight 2022 Register below!
Café Kerygma with Lindsey Messina:
Providing a Place of Hospitality
What is your biggest inspiration with being a part of the Cafe Team? Why did you initially join?
I initially joined the cafe team quite a few years ago when we were providing coffee in the entryway (before the official cafe was up and running). I have always loved being part of a team and connecting with people over food and drinks is always so special. Over the last year or two I have taken on a more intentional role as manager of the cafe, assisting Evan, to ensure that the cafe is always providing good quality beverages, service and relationships! Relationships and sharing the love of Jesus is the motivation behind everything we do in the cafe. 
How do you keep the space looking fresh and how does this feed you passion for hospitality? Where did your passion for hospitality start?
Growing up in a large household, opening up our home and table for others was natural for me and still happens to this day. My family has an open door policy and a heart to give, so every week we have people in and out of the home to eat and spend time with one another. 
Over the last few years I have been so grateful to have had Stephanie as a leader and mentor in my life. She has been a huge pioneer over the years in creating this vision and purpose of providing a place of hospitality, a place where people that are in need of love from the Father can come and see him in their midst. This has encouraged me to continually strive to make the cafe a place where people experience that love and feeling of acceptance and comfort, from the atmosphere, quality drinks, and conversations with cafe staff. Every decoration, training, menu item, etc… is meticulously decided upon with people in mind. 
How is hospitality such a big part of what we do here at the church?
Everything that we do in our community is unto a greater purpose and mission. Our mission is to assist the Holy Spirit in helping people encounter Jesus. The cafe is a small piece of a much larger puzzle. Every event, service, and program we offer is designed to prepare a place or time for people to come and encounter God, to see Jesus in real time. 
What is the biggest need right now for the Cafe Team?
We are always looking to expand our team! Many hands make light work, and also allows for more people to join in on the vision that our leadership team has provided for us. 
How can others serve on the team if they are interested? What are the cafe hours?
For those who would like to join our team, we meet the first Monday of every month at 6PM to train our team on proper steaming techniques, how to make coffee, etc. The hours the cafe is currently open are Sunday mornings from 9-10AM, the 10 minute break and then again after service from 12-1PM. We encourage people to come before service and bring a new friend or family member to have a cup of coffee (or tea) and introduce them to our community.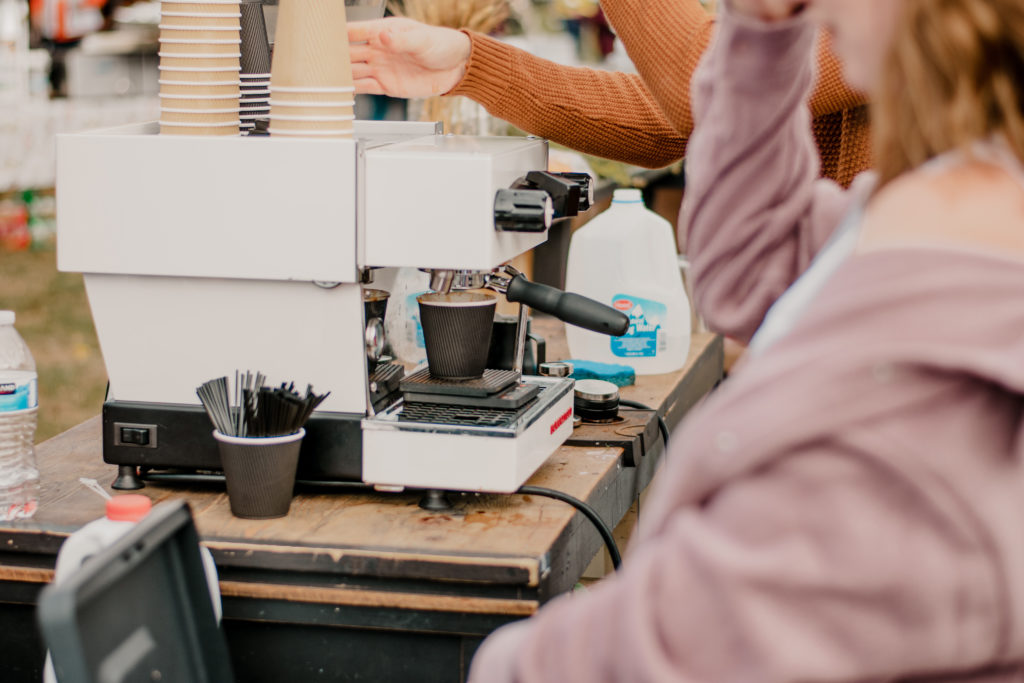 We'd love to know… Is God on the move in your life?  If you have a testimony, click the button below to share in an upcoming edition of The Crossing Weekly!