THE CROSSING WEEKLY
LOOKING AHEAD
SATURDAY MARCH 19TH
Prophetic Training Day with Josiah Armstrong This is a full 5 hours of equipping, teaching, and activation to grow in understanding on how God speaks and how we can properly receive, interpret, and communicate the inspiration and instruction of the Spirit with clarity. Read more and register in this week's article below.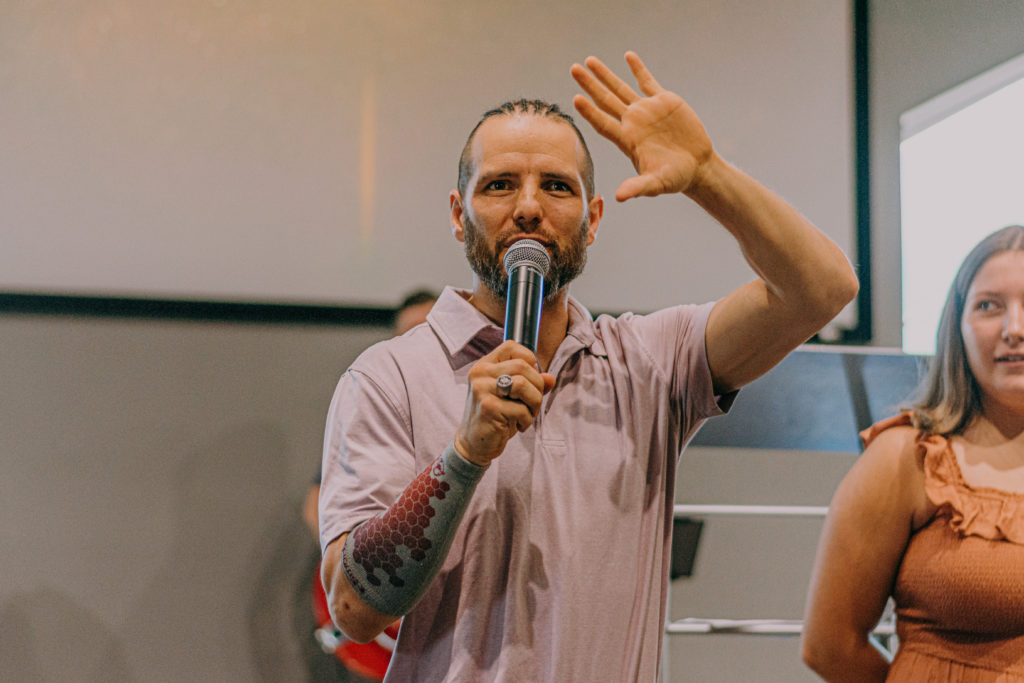 SUNDAY MARCH 27TH
The Ministry of Helps will be reviewing ways to serve in our community. Join us in the Redemption Room after service, refreshments will be provided. Contact Laura Messina for more information at messinanc@gmail.com
FRIDAY – SUNDAY, APRIL 1ST-3RD
Women's Encounter is coming up, register below.
FRIDAY – SUNDAY, APRIL 8TH-10TH
Men's Encounter is coming up, register below.
JOIN US WEEKLY
EY (Emerging Youth) 6:30 PM, is a gathering of ages of 12 – 18. Contact Josiah Armstrong to get involved jarmstrong@lifealliance.org
Prayer Furnace 7 PM in the sanctuary, come pray and worship with us!
Young Adult Group 7 PM, contact Laura to get involved messinanc@gmail.com
Life Groups are at the core of our community expression and are the primary place for connecting with people in our community at a personal level. Find one near you!
Life Groups are at the core of our community expression and are the primary place for connecting with people in our community at a personal level. Find one near you!
First Principles classes are at 6:30 PM. The First Principles Series is a set of 13, six-session Bible study guides used to establish believers and churches in the Christian faith. New enrollment occurs in fall and spring. Learn more about First Principles!
Coffee and Conversation Women, join us every third Saturday morning of the month from 9 AM – 12 PM, contact Anna Benedict Anna.benedict@gmail.com
Worship Service 10 AM. Find our messages HERE.
Children's Church drop off times are from 9:40 AM – 10:15 AM. Kingdom Kids (age 1-5) is across the street at the Daycare. Power Kids (ages 6-11) is in the main building's hall. Learn more about Children's Church.
Café Kerygma is our very own cafe which opens at 9 – 10 AM & 12 – 1 PM for coffee and fellowship.
Dreamers' Ranch sells their products from 12-12:30, or directly after service. Come buy our beef, lamb, pork, and eggs as available.
School Of Warrior Arts offers various classes throughout the week featuring Martial Arts, Dance, and Music lessons. Click HERE for more details!
WHAT IS PROPHECY?
Josiah Armstrong on Prophetic Ministry – Part 1
By: Josiah Armstrong
Prophecy is one of the greatest gifts to strengthen and edify the body of Christ! Apostle Paul encouraged us to "pursue love and earnestly desire spiritual gifts, especially prophecy" (1 Cor. 14). Prophecy is God speaking to man and the purpose is to direct us in the knowledge of God as revealed in Christ.
The one who prophesies, speaks exhortation, edification, and comfort to men; with prophecy, the heart, thoughts, and will of God is revealed and expressed to people–primarily to strengthen, build up, and comfort. Prophecy is divine communication that gets translated through earthen vessels (people).
The spirit of prophecy is the testimony of Jesus (Rev 19:10) and all prophecy should glorify God and bring us into the intimate knowledge of who He is and into an encounter with His imminent presence. When you receive an authentic prophecy exercised through love, you should encounter the heart of God.
Much confusion comes in when we fail to understand the various dynamics and dimensions of prophecy. Let me explain.
The Metron – Various Measures and Dynamics of Prophecy
There are specific calls and measures of graces given to each of us, much like talents. Within the prophetic, the scope or range of its operation varies from person to person and within different environments, but any measure can be developed and enhanced with faith, stewardship, and development. Here are the following aspects of prophecy as I understand it: The Spirit of Prophecy, The Gift of Prophecy, Prophetic Ministry, and the Office of a Prophet.
The scriptures tell us to "think soberly about ourselves, each according to the measure (metron) of faith that God has assigned….we have different gifts according to the grace given to us, let us use them, if prophecy in proportion to our faith" (Rom 12:3-6). Let's look at these different "metrons" or measures.
The Spirit of Prophecy
"For the substance (essence) of the truth revealed by Jesus is the spirit of all prophecy [the vital breath, the inspiration of all inspired preaching and interpretation of the divine will and purpose, including both mine and yours]" (Rev 19:10).
The spirit of prophecy is an anointing of the Holy Spirit which enables people who are not prophets and who do not possess a prophetic gift to prophesy. It can happen through any medium or expression of both individuals and corporate bodies of people, institutions, and even creation itself. The Lord can and will speak through anything, so in the broadest sense, when He speaks it is a form of prophecy and inspired communication.
See the following scriptures for examples: Psalm 19, Saul in 1 Samuel 19:20-23, Moses and the Elders in Numbers 11, Acts 2:1-18, and Joel 2:28.
The Gift of Prophecy
When we consider the gift of prophecy or any of the spiritual gifts referenced in 1 Corinthians 12-14, we must consider the nature of the gift. Gifts, which have been given to us all by the Holy Spirit, are something that the Lord gives freely and is not something you can earn or something you work hard for. They are supernatural and received and operated by Faith.
Prophecy in Greek is "propheteia," pro= "forth" phe= "to speak", referenced in the New Testament 200 times. It is not primarily mentioned in the predictive/foretelling sense, but in an interpretive, forthtelling sense, declaring the will & counsel of God. It's inspired speech. A distinct prompting of the Holy spirit. A supernatural utterance in a known tongue.
Prophetic Ministry
Prophetic ministry is a service function empowered by a strong prophetic anointing that rests upon an individual at all times. It far exceeds the first two levels in commitment, calling, and anointing. It is a consistent service and function that someone operates in.
Word of knowledge, word of wisdom, discerning of spirits, and the gift of faith often accompany those flowing in prophetic ministry. In commitment it requires a lifestyle devoted to the prophetic function. In calling, it is oftentimes preparatory for those who will later function as mature prophets.
Elisha received a mantle of the prophet and then later walked in the office. People in a close association with a group of prophets or a prophet tend to partake of this mantle. Some seasoned prophetic fathers have commented that they believe it takes about 20 years or more for a prophet to be formed. Those in prophetic ministry typically are in the development process. See 1 Kings 19:19 and 2 Kings 2:15 to learn more.
Office of a Prophet
Prophetic Office is a governmental office having the responsibility of equipping, preparing, and giving direction and correction to the Church to make her a mature bride in holiness and purity. Prophets will invest the church with supernatural faith as they both forthtell the word of the Lord and foretell His purposes.
Those in Prophetic Office train people to hear God for themselves, how to find and live in the will of God for themselves, train the people in the gift of prophecy and help churches establish the right framework and protocol for the gift.
It is a sovereign calling requiring extensive training and true encounters with the presence of God. The prophet abides in a realm of forthtelling, rebuke, affirmation, revelation, warning, illumination, prophetic utterance, prediction, encouragement, dreams, visions, correction and ministry confirmation of others. See Ephesians 4:11-12, 1 Corinthians 12:28, and Ephesians 2:20 to learn more.
Responsibly Handling & Testing Prophecy – Prophetic Training Days
There is so much to learn and grow in when it comes to the spirit. It can be messy for sure but it's all part of the adventure in the Kingdom. Remember, the purpose of prophecy is to direct us in the knowledge of God as revealed in Christ. It's important that we test prophesy and that we respond with appropriate boundaries when we receive a word.
Register for the Prophetic Training Day 301 at Crossing Life Church this Saturday, March 19 from 9am-3pm to gain clarity, skill up, and sharpen your understanding and practice of prophecy.
You can also pick up the foundational 101 and 201 courses containing over twelve hours of instruction and hands-on activities to help you grow in grace and hearing the voice of the Holy Spirit. Reach out to Josiah Armstrong for more information.
In next week's newsletter, we'll go deeper into the purpose of prophecy and responsibly handling prophetic words. Stay tuned!
We'd love to know… Is God on the move in your life? If you have a testimony, click the button below to share in an upcoming edition of The Crossing Weekly!